We're Affordable Professionals That Meet Your Needs.
We're Acworth's #1 Garage Door Experts!
And We Have The Experience To Prove It.
Budget Garage Doors is a locally owned family business. We provide economical garage door repair and replacement services for our community.
We serve Kennesaw, Acworth, Woodstock, and the surrounding area.
Our mission is to provide a budget friendly service experience for our customers. If we are replacing a garage door often times we can reuse existing parts to save the customers money if the customer so desires. All new door estimates are free. Give us a call today at:
Budget Garage Door Services?
Your Local Garage Door Masters!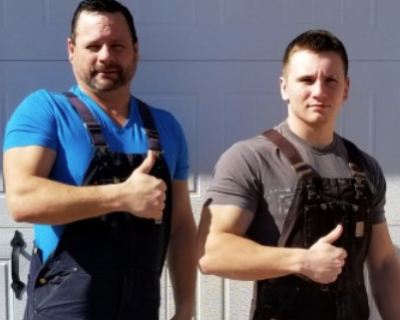 Aaron's on the left, and his son, Max, is on the right. They're both ready to help fix your garage door ASAP.
We are Five Star rated and work everyday to maintain this by meeting our customers needs.
We offer economical garage door repair services. The owner of our company, Aaron Homyak, has worked in the garage door industry since 1992 so if the door or opener can be repaired we can do it. If replacement is necessary we understand that households have budgets and we strive to provide the most economical solutions for the customer.
We are open 7 days a week (6AM – 8PM). Please call us and we will schedule a time that meets your needs.
We'll Service Your Garage Door Fast! Speedy Service That Doesn't Delay. Once you give us a call, we'll be able to schedule an appointment for your garage door servicing Within The Next 24 Hours.
Don't Delay Having A Good Garage Door Anymore!
Call To Schedule An Estimate Time That Works Best For You. Use Any Of The Methods Below To Reach Us
Local Customers Love Our Garage Door Services! Here's Why We're So Popular…
"Great people doing great work. The door broke overnight on a Saturday. They came out Sunday and stabilized everything. Worked with the distributor to get a replacement door (special mind) and had everything fixed by Wednesday afternoon. And they were able to tell me why it broke and who to contact to fix the underlying technical issue. Definitely Recommend!!"
"Aaron and his team at Budget Garage Doors were extraordinary. They operated with honesty and integrity. They were knowledgeable of their business and they worked quickly and the results were top quality. I was VERY PLEASED with their service. Contact them if you want the BEST and someone you can trust."